Forever Young (BBL) Laser Treatment
Leading a long and active life is terrific, but often comes with a price – age spots, wrinkles, creases, and saggy, sad-looking skin. If you are looking for a genuinely effective way to restore your skin quality, the good news is there's a solution that works – Forever Young BBL.
What is Forever Young BBL?
Forever Young BBL is a laser treatment that triggers natural skin regeneration by stimulating the growth of new skin cells. BBL treatments use the therapeutic power of specific bands of light to target the signs of aging for younger, healthier, more supple skin, reducing the visible signs of age. Forever Young BBL can create a significant improvement in the following skin flaws and conditions:
Age spots
Fine lines
Reddened skin
Uneven skin tone
Unwanted hair
Acne
Spider veins
Forever Young BBL can be used safely on the face or body, restoring skin quality. This treatment is effective as "preventative maintenance" for your skin. Routine treatments with Forever Young BBL will not only correct skin damage but can help avoid skin aging for years longer than nature intended.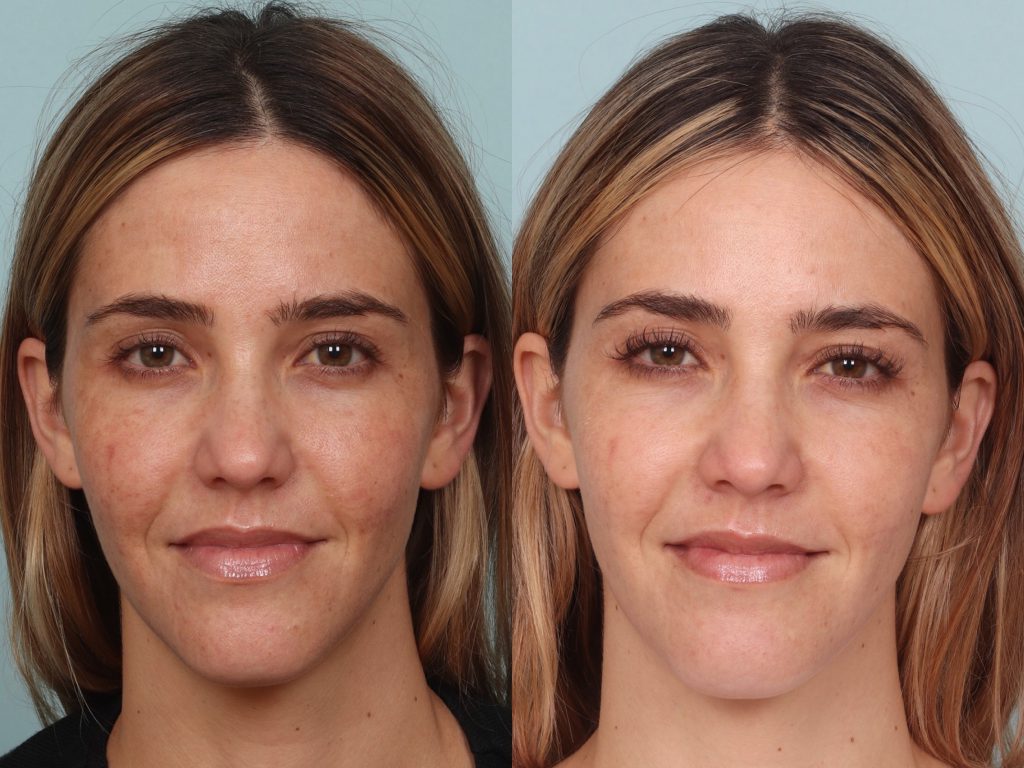 How Does it Work?
Most long-term skin damage starts deep within the skin structure. Addressing the top layers of skin can lead to a temporary improvement in skin quality, but for a dramatic, long-term enhancement, regeneration within the deeper layers of your skin is required. Forever Young BBL uses scientifically proven broadband light (BBL) to penetrate to the deep layers of the skin and "kickstart" the body's natural healing processes deeper within the structure. Forever Young BBL produces a remarkable improvement in skin quality, texture, and youthfulness – on the face or body.
One treatment of Forever Young BBL takes roughly half an hour (depending on how many areas you want to treat at one time). The procedure itself is done comfortably at the private, luxury office of Aesthetic MdR, and is virtually painless. In a BBL treatment, invisible infrared light is delivered to your skin continuously, triggering natural skin regeneration, and addressing damaged or pigmented cells.
What about recovery? Am I going to look like a nightmare while my skin heals?
The good news – there's no downtime! You can return to your usual activities immediately after completing a session of Forever Young BBL. You may experience slight redness and a flush for a few hours after a treatment, which subsides within a few hours. If age spots, sun spots, or discoloration were treated, those areas darken, then fade and then flake off over two to three weeks.
Why Choose Aesthetic MdR For BBL?
Aesthetic MdR is one of the leading practitioners of Forever Young BBL in the greater Los Angeles area, helmed by double board-certified and internationally-renowned plastic surgeon Dr. Luis Macias. As a practice, we are dedicated to patient comfort and superior results, and our successes speak for themselves. Why not undergo this groundbreaking skin rejuvenation treatment from a double board-certified plastic surgeon who is known to be among the best in the region? Contact us today to schedule a consultation at (424) 375-6580.